Canadian pension fund investments surge in Texas with Austin's Symphony Square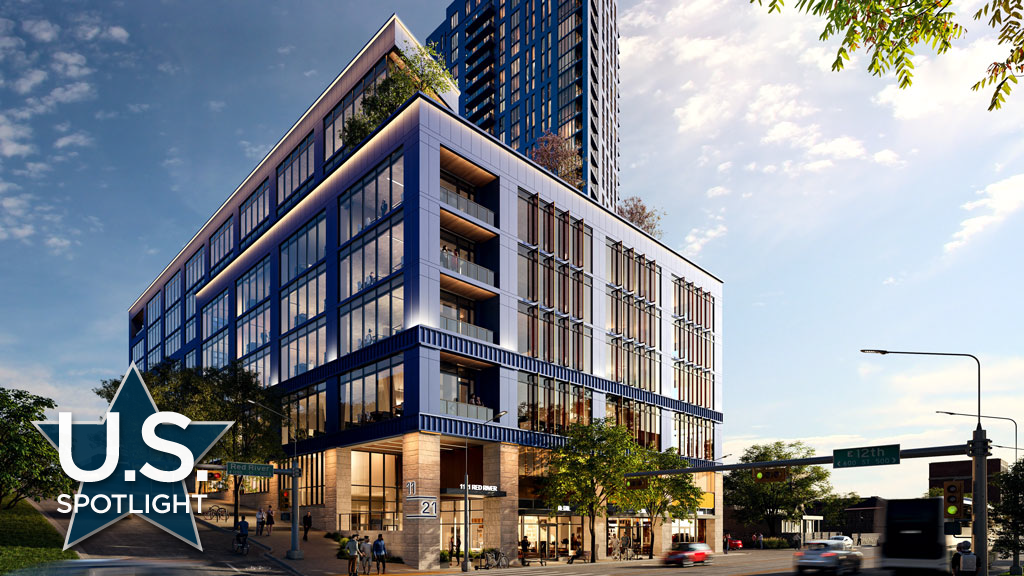 Ivanhoé Cambridge, a global real estate subsidiary of the public pension fund manager Caisse de dépôt et placement du Québec, owns interests in more than 1,000 buildings in the residential, office, retail, industrial and logistics sectors across the country. world.
The investment firm recently opened a seven-story commercial office building in Texas, a key part of the new Symphony Square mixed-use project in downtown Austin. Occupancy planned for spring 2023.
In partnership with Greystar Real Estate Partners, the building will include 15,000 square meters of Class A office space and 500 square meters of restaurants and retail on the ground floor. The Symphony Square project also includes The Waller, a 32-story residential tower already under construction.
Located in the heart of Austin's booming Innovation District and across from famed Waterloo Park and the Moody Amphitheater, Ivanhoé Cambridge says the building known as 1121 at Symphony Square will embrace the concept of "living , work and play.
"Created with today's workforce in mind, 1121 at Symphony Square will foster creativity by offering flexible work environments and unique outdoor spaces that can accommodate solo or collaborative work, and even lab spaces," the company said.
Tenants will be able to connect to The Waller residential tower next door via a bridge on the fifth floor, giving them access to an exclusive 6,000 square foot rooftop terrace and a two-story fitness center equipped with a grass lawn, lap pool, locker rooms and yoga room. The Waller also offers private balconies for residential tenants on floors one through four and end-of-trip facilities including bicycle storage.
"Ivanhoé Cambridge is pleased to realize its vision of the creative office of the future in Austin with 1121 at Symphony Square," said Jonathan Pearce, Executive Vice President of Leasing and Development. "Amenities such as the terrace, fitness center and pool deck will provide a unique indoor-outdoor experience that promotes well-being. Our future clients will undoubtedly benefit from a dynamic and creative work environment that fosters a sense of community and collaboration, while boosting productivity and connecting them to Austin's rich culture.
The project, designed by Washington, DC-based R2L: Architects, is aiming to achieve LEED Gold certification. Austin Page firms and TBG Partners are responsible for the building's interior design and landscape architecture, respectively.
Ivanhoé Cambridge's appeal to Austin is not surprising given recent upbeat demographic and economic polls.
According to a report by Chicago-based Jones Lang LaSalle Inc., the state government and the University of Texas provide Austin with a solid foundation even during an economic downturn.
"While the publicity of large employers moving into the city is significant, the state government and the university continue to serve as a foundation of sustainable employment for the present and the future."
Austin's continued growth in public sector and college employment supports demand for quality rental residential developments among the city's young population. A study indicates that 30% of Austin's population is in the 25 to 34 age bracket.
Greystar's director of development, Matt Stevenson, says the Symphony Square joint venture with Ivanhoé Cambridge matches the lifestyle needs of this prime demographic with potential employers. "1121 at Symphony Square presents a remarkable opportunity for a tenant looking to attract and inspire top talent."
Meanwhile, Ivanhoé Cambridge has other business partnerships underway in Texas, indicating the company's continued confidence in the state's prospects.
In a joint venture with Hines Interests Limited Partnership, the company opened a 47-story, one million square foot Class AA office tower in downtown Houston late last year, called Texas Tower. The private company Hines has developed or otherwise acquired properties comprising over 485 million square feet. It currently manages 622 properties totaling 256 million square feet.
Similar to Symphony Square, Texas Tower is cutting-edge in its overall design and tenant amenities.
"Texas Tower features a large hospitality-enabled and hospitality-centric lobby, flexible workspaces, and innovative common space designs," Ivanhoé Cambridge said in its statement. "Designed by Pelli Clarke & Partners, the building is built to the highest standards ever developed by Hines and Ivanhoé Cambridge in Houston, including LEED Platinum, WiredScore and WELL Building Standards."
In June 2021, Ivanhoé Cambridge also entered into a joint venture with Los Angeles-based Mount Auburn Multifamily. Together, the two companies hope to expand their exposure to the Austin residential market, targeting projects of 200 apartments or more.